Hello,
I am trying to create a weekly task, but gantt graph shows exactly one day before the schedule.
My task is set like this. I expect it to be a weekly task and to be done during, say, 10 A.M. to 11 A.M. on each Saturday, as shown in the screen shoot: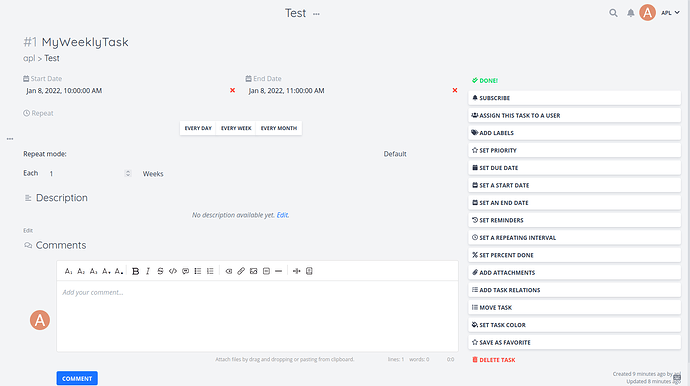 While Gantt shows this task on Friday:
Another question is, could gannt shows the task every week, instead of only the upcoming week? For example, it is expected to show the task on 8 Jan, 15 Jan, 22 Jan, etc.
Blow is additional information if it helps.
I install Vikunja through docker-compose follow this article with additional env vars:
VIKUNJA_SERVICE_ENABLEREGISTRATION: 0
VIKUNJA_SERVICE_TIMEZONE: Asia/Shanghai
PS: the problem seems do nothing with timezone because 'upcoming' page shows exactly the right time.
Thanks for reading!