Hi there,
i like vikunja a lot, but setting this up, was quite q ride for me

so again i am having trouble
last task was to get email sending running, this is working now when i use vikunja testmail me@mail.domain via console, email is using TLS on port 587
i have set this up on an unraid server using docker, you can see the docker environments inside this screenshot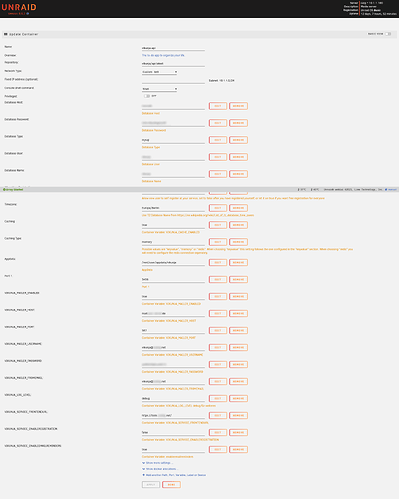 current task is to get the email notifications / reminders to work, i have set the timezone for the instance via the variable, seems to work, when setting reminders at 16 oclock via the UI the database is setting it to 15, so total normal GMT+1 behaviour
also the users in the database use the same timezone, checked this via the users table
the user were missing the email several times, so i set them again via the database
but i am not receiving any reminders, checking the docker logs, after setting the debug flagt, i can see he is not "seeing" any reminders to do.
e[36m2022-02-21T18:13:00.005260597+01:00: DEBUG

models/getTasksWithRemindersInTheNextMinute 583e[0m [Task Reminder Cron] Looking for reminders between 2022-02-21 18:13:00 +0100 CET and 2022-02-21 18:14:00 +0100 CET to send…
e[36m2022-02-21T18:13:00.005700856+01:00: DEBUG

models/getTasksWithRemindersInTheNextMinute 585e[0m [Task Reminder Cron] Found 0 reminders#
i received an email once, but just once, this was before i tried to fix the instance url for the email, and i dont know what is causing the reminder email to fail.
based on the database there are active reminders to sent, while the logs say "nope", i tried to set them in 3 variantes e.g. 15 and 16 and 17 oclock while my clock was displaying 16 oclock, just to check any time shifts. this did not help
i tried to also to use the unstable version but i did not receive an email as well.
what can cause this issue? and how can i resolve it?
many thanks in advance
makuma