Hi, it seems I've encountered a bug: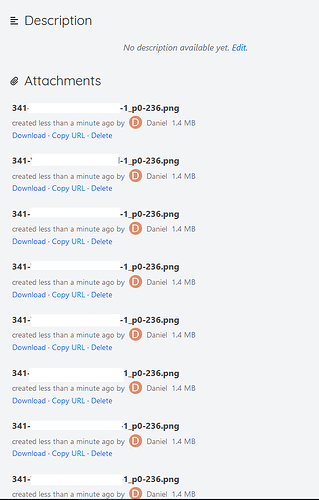 In the card view when uploading files, they are created multiple times. Not only that, but checking the other cards I noticed that the multiplied attachment was also added to other cards. It doesn't happen everytime though, and I haven't been able to figure out a pattern yet. But when it happens instead of the upload being instantaneous a little upload bar appears and then once it's done the file is uploaded multiple times like in the screenshot.
I'm not discounting the possibility that I've made a configuration error when installing but I've used the Docker + Traefik 2 template and I don't see what I could've done wrong to create such an oddity. It's a fresh installation of v0.19.2.
Update:
I was able to find one pattern: As I mentioned the files are also sometimes copied to other cards. Specifically it seems that they were copied to all cards in the same column that came before the card I was uploading to. And most cards contained two copies of the multiplied file.
Update2:
I was able to reproduce this on Vikunja Try. It seems that it only occurs when Drag&Dropping files onto the card. I didn't experience the issue when first clicking on "Add attachments" and the using the file picker via "Upload Attachment"